Personalised Wooden Toy Boxes, as Made for Prince George
Children's bedrooms and nursery's can often get very messy. Toys are thrown around and left on floor, which is of course part of being a child, but they need to have somewhere to store their toys neatly away once they're done playing. So, what better way to encourage a child to tidy away their own toys than having their very own personalised wooden toy box with their name engraved? A toy box which is the same as the one Prince George received for his birthday.
MakeMeSomethingSpecial's wooden toy boxes are unlike any toy box you'll find in local toy stores or large online shops. At MakeMeSomethingSpecial, every one of our wooden toy boxes is hand crafted with love and care from extremely high quality wood, made with extreme attention to detail, even featuring soft-close safety hinges to avoid the risk of trapped fingers.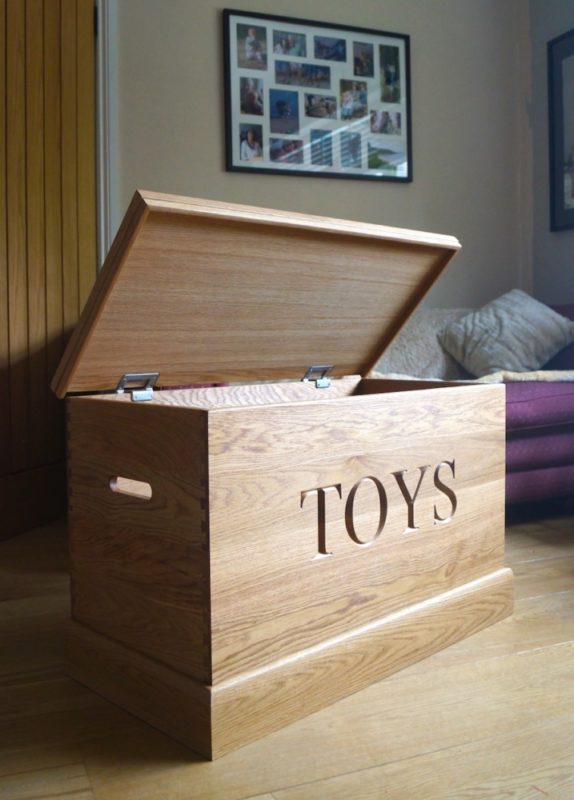 In our opinion, when it comes to having something made – something special – it's nice to be able to add your personal touches without any restriction.
The best thing of all, is our engraved lettering. Nothing comes close to this! We are specialists in personalised wooden gifts and engraving is something we excel in. No one does engraving as good as we do. The lettering is so sharp and so precise, you will not find any issue with it – it is flawless.
We have a wonderful loyal customer who has bought from us several times over the last few years. Two of her purchases have been our custom made and hand-crafted personalised wooden toy boxes. With the recent arrival of her beautiful new born baby, Jasmine, we have been commissioned again to make a bespoke wooden toy box with all her special requirements.
The front face was engraved with her name in large letters right across the front. The letters are around 100mm tall, deeply carved and made to stand out in style. The wooden toy box featured three additional personalised panels. The adorable inside lid was engraved with a beautiful and favourite quote from the well known Winnie the Pooh stories.
Being creative is all part of what we do here at MakeMeSomethingSpecial. We have an intense passion for what we do and love nothing more then creating something exceptional that pushes the limits of what we even think is possible.
MakeMeSomethingSpecial's personalised wooden toy boxes come in a selection of timbers and styles, such as solid walnut and solid oak, with the option to have a painted finish on them in either white, cream, blue or French grey. If you have ideas of your own, just let us know and you can have a bespoke toy box that's designed to your requirements.
We love creating beautiful items, and that is why we offer personalised engraving on all of our wooden toy boxes… to make them extra special. You can put the name of your child, an inspiring quote or even a special date onto your toy box. There is also the option to add bows, stars and hearts.
If you are looking for a really good wooden toy box, we have exactly that! I was having a look on the internet the other day, looking for wooden toy boxes, seeing what was out there, and I have to say, there is a good choice of toy boxes. The only problem, I thought, was none of them looked really good! I saw wooden toy boxes for children that were all painted, which is all fine, with personalised children's names on them as well as other messages, carved images, painted pictures and other design that covered the toy box but, again, there was nothing that really made me think – wow! that is seriously nice!
Then I looked back at the personalised wooden toy boxes we make here at Make Me Something Special. And  thought – yeah! they look really nice! This is what i'm talking about…
I love our wooden toy boxes, they are made to such a high standard it is unreal. We make every one from the ground up, completely by hand in our Surrey Hills Workshop, to order.
Everything we use is the best we can find. We spare no expense when it comes to our toy chests. The hinges are state of the art, high quality and long lasting. I have three children myself, and I have made each one of them a toy box for their bedroom. The oldest of the three toy boxes being 7 years old now and it still look brand new! The hinges are still solid and like new, the finish still very much silky smooth to the touch.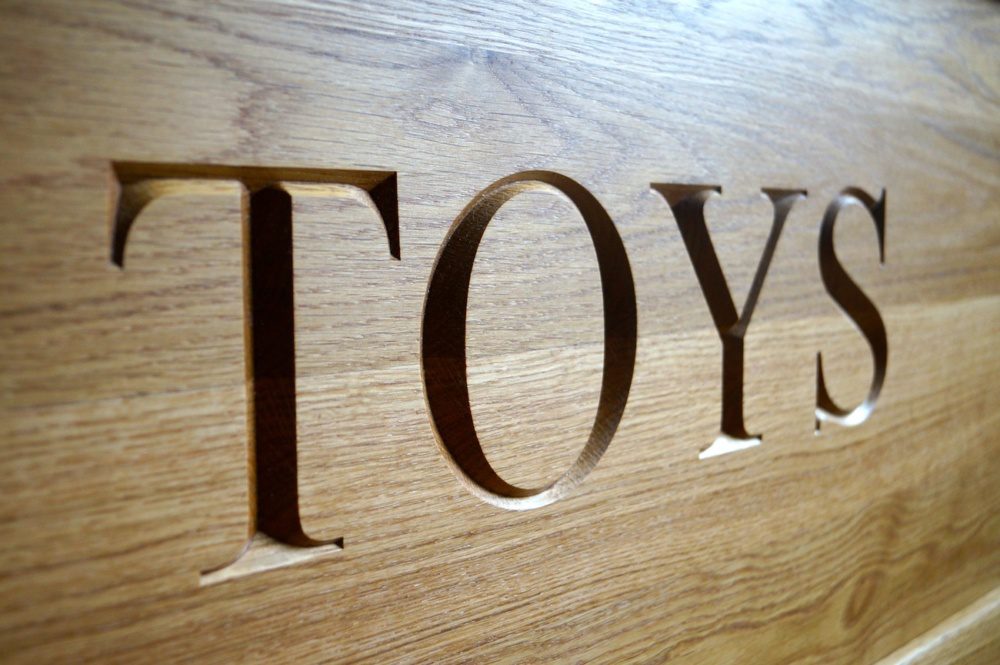 We have made many many engraved wooden products for an array of companies and individuals including royalty and some of the best and well known establishments on the planet. Make Me Something Special is well known for quality products and excellent customer service. We love doing what we do!
Have a read of what a customer said about one of our personalised wooden toy boxes:
Hi Davina,
Just to let you know that the box I ordered arrived today and it is gorgeous!!
I am sure my son will love it when I give it to him for his birthday on Sunday.
Thank you so much for getting it to me on time.
Warmest regards,
Aryati
Personalised items are always wonderful items to receive as a gift or to treat a loved one with. They hold memories for years to come, and include something truly unique to that person. So why not give your child, or a family or friend's child, a truly special gift, of a wooden toy box with personalised name engraving.
At MakeMeSomethingSpecial, we take pride in the craftsmanship of our products. That is why you will not find another personalised toy box that has been made with such love and care as our ones. Every single one of our toy boxes is completely hand made, from the very start, right to the very end, from solid English Oak wood.
We know how important attention to detail is, especially when it comes to our
personalised gifts for children
. That is why we only use the highest quality materials, dovetail joints and child safety hinges, so that your child has something both beautiful, durable and safe.
This is my daughters new engraved wooden toy box. (please note we can not sell you this particular design and it's a one off) Handmade to our standard size of 80cm long x 40cm deep x 50cm high and finished in our classic white painted finish with solid oak lid. This beautiful engraved wooden toy box has her name engraved on the front with the additional 6 stars surrounding the name.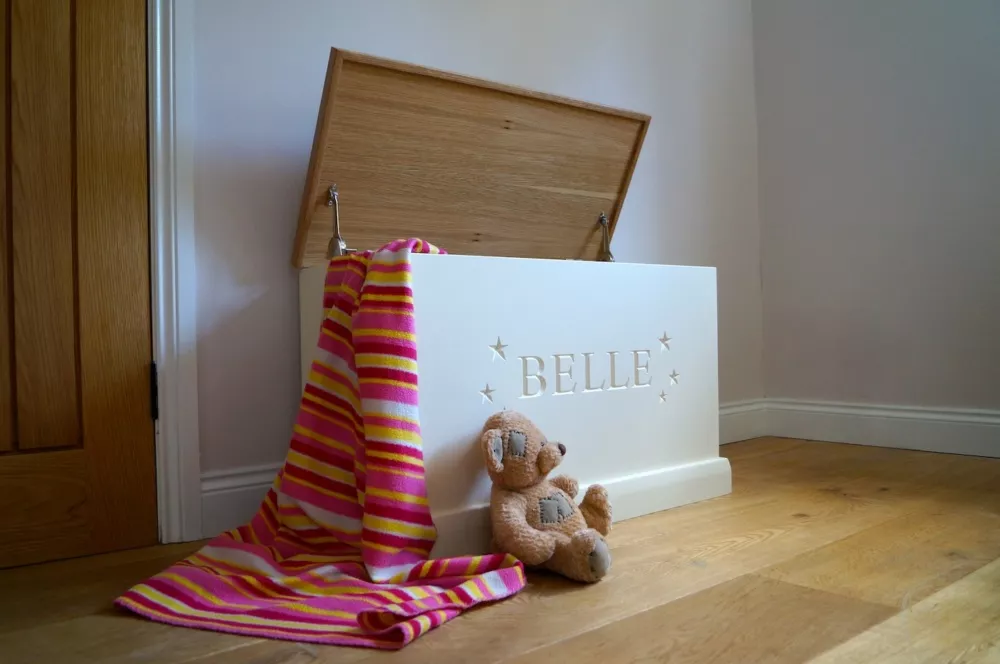 For the personalised engraving of your toy box, you can choose to have it on the lid of the box, the front face or inside the lid, as well as all three if you prefer. You can put the name of the child, or a beautiful quote, as well as butterflies, bows or stars, to create a truly memorable and much loved gift.
This is what my other daughters toy box looks like. Same engraved star motif on the front, this is a popular request with our personalised children's toy boxes. They come with a matching painted lid as standard. All hand built, from the ground up, to order, and come fitted with our child safe, soft close safety hinges. The oak lid is an option extra, but the best thing about this particular upgrade is you can then add further engraved lettering on the underside on the lid. And on the top if you prefer or want to include.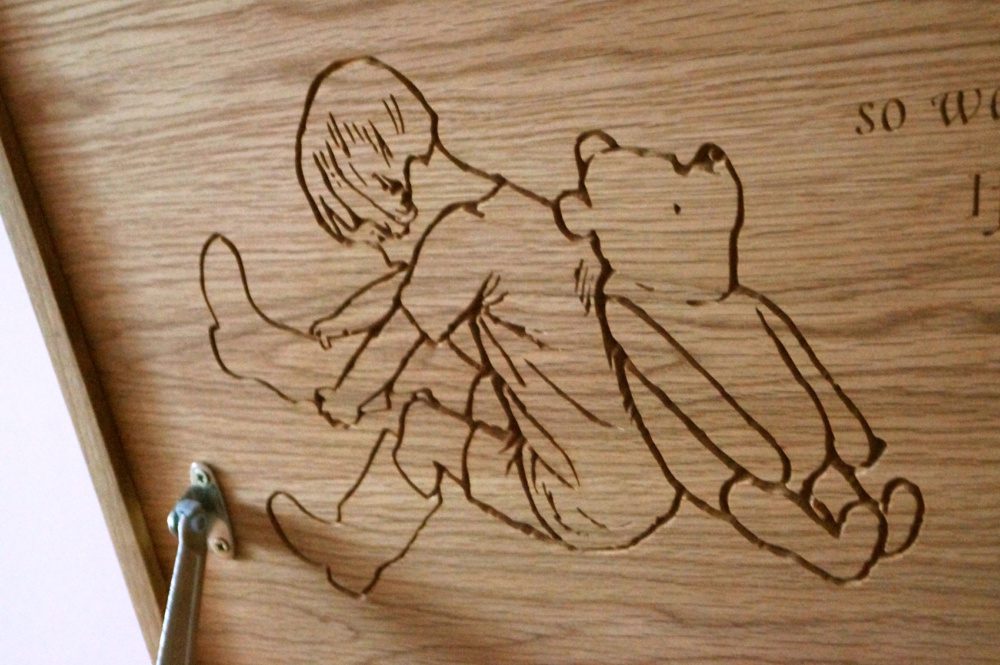 The perfect Christmas gift for children. However, this post is all about my second daughters personalised wood toy box. With her being a lover of Winnie The Pooh, we engraved a classic image of that silly old bear and Christopher Robin. The image is just perfect! I love this picture of Christopher robin putting on his boots. If you don't know this story, I do urge you to look in up. It is a good one.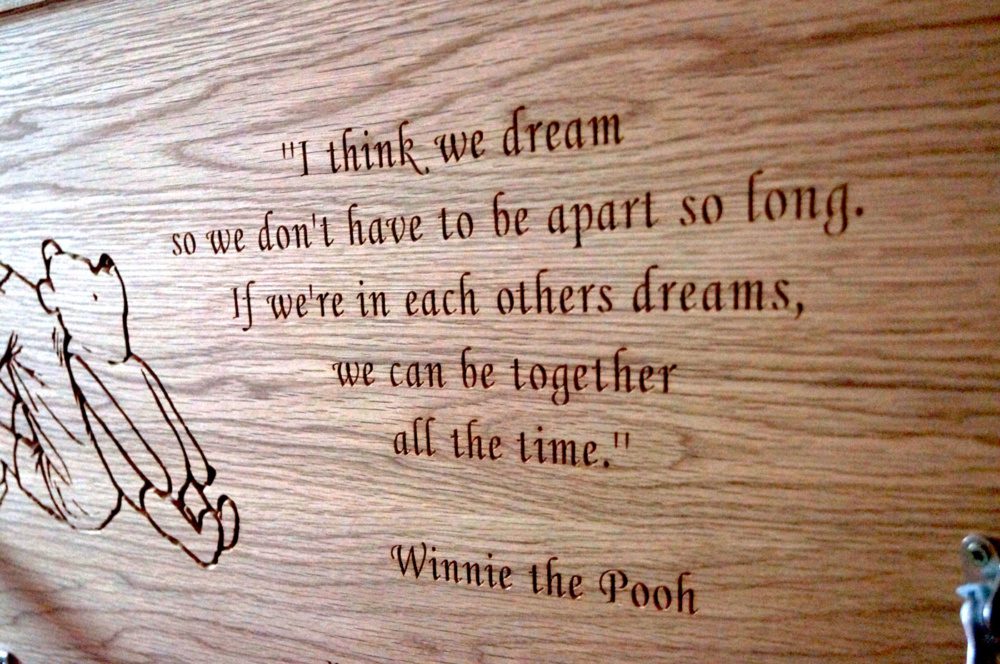 We also personalised the lid with another classic quote from A.A.Milne. We have engraved lots of quotes form Winnie the Pooh on our personalised toy boxes and I love it. The most popular being the class and unforgettable…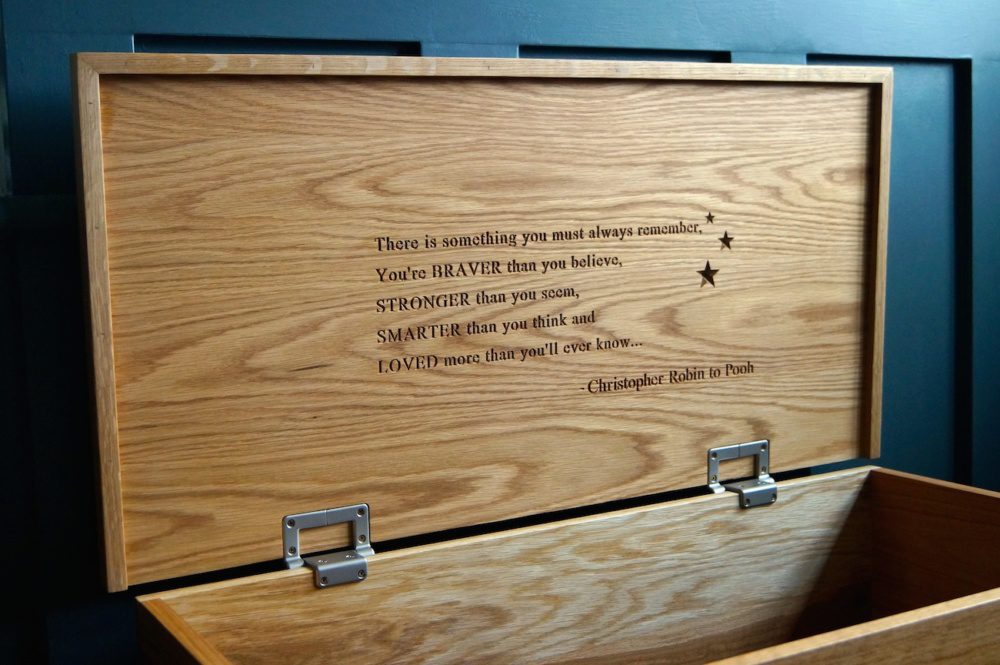 We have also very recently added carved butterflies to our oak toy boxes as an optional extra. We are always up for a challenge. If you are wanting something a bit different on the front of your toy box then please get in touch.
We will be adding more motif options to our wooden and oak toy boxes. We currently have engraved hearts and Stars, ribbons or bows and Butterflies. We can, of course, carve whatever you want in the meantime. Snowflakes, soldiers, Dragonflies, Space Rockets – whatever your hearts desires. These personalised toy boxes are simply stunning.
Why not make your child's oak toy box stand out, and have it personalised with their name? This is great amongst families with more than one child, as it allows them to have their own private place to store their belongings. They also make a wonderful addition to any playroom or bedroom, as they look amazing, and also keep your child's toys tidy.
Instead of allowing your kids to throw around their unused toys all over the house, a personalised beautiful box, will encourage them to keep their things tidy. There are many examples of toy boxes with name engraved on our site. You can review the boxes to see the one you'll like to make for your children. All our customised boxes are made from top quality wood. We can also engrave images onto the toy box. A recent example we made with images was for a little girl, where we engraved her name and surrounded it with butterflies.
If you would like to know more about our beautifully hand crafted personalised wooden toy boxes, give us a call us on 01252 703 196. We have a huge selection of other toy box with name engraved items that you can choose from.