A stunning collection of magnetic knife racks and knife holders
The first is a magnetic knife stand, which stands upright at a vertical angle, with space for knives on each side. The 2nd is a magnetic knife rack, which is wall-mounted. This magnetic wooden knife rack is the perfect choice if you don't have much space to play around with. The final design is and a magnetic knife block. Like the knife stand, it holds itself upright, only this design is slanted, providing a more modern and unique feel.
Each magnetic knife holder is designed specifically for the style of kitchen and where they can fit, allowing your favourite knives to be within reach. If you own or want to buy beautiful kitchen chef knives the storage is all-important. You can't just bung them into a draw. The old fashioned magnetic strip knife racks are out as well, as they can scratch or damage the knife blades. Wooden is the way to go!
There is something very special about knives just sitting against a smooth piece of wood, looking as if they are defying gravity. It catches the eye immediately. The powerful rear earth magnets are hidden deep inside the timber and can never come in contact with your knife blade, which adds to the illusion, making our knife racks very elegant.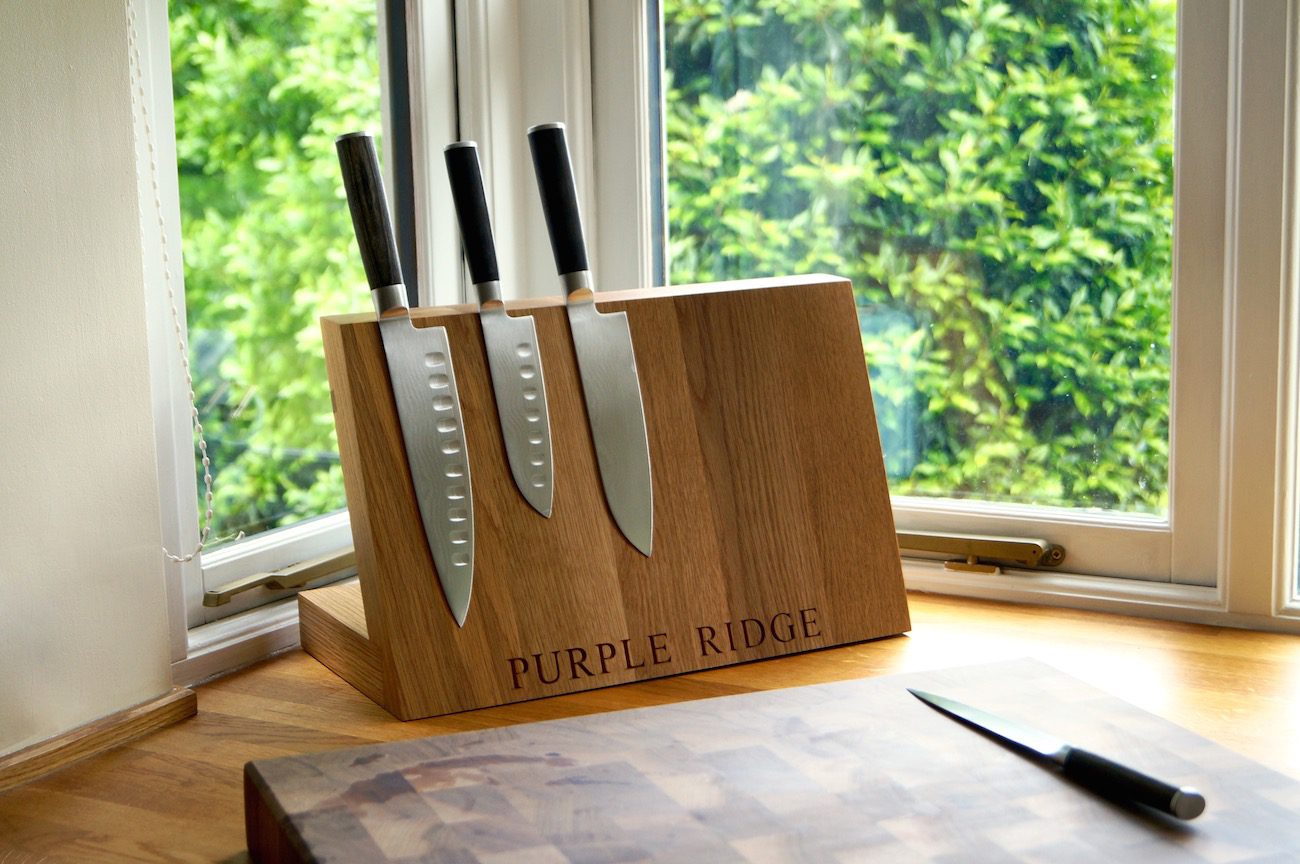 Magnetic knife racks like you've never seen before
There are many different magnetic wooden knife racks on the market, but you will find they all have the same design, they are only 2 inches tall which leaves most of the knife-edge exposed. Personally, I think this looks untidy. Our wooden knife racks, no matter which one you buy, features a good full-sized backboard, keeping all of your knife blades well protected. 
Choose from either our wall mounted knife rack or our two counter mounted knife holders - our knife block and knife stand. All three are beautiful and will hold an array of kitchen knives. Our knife blocks, like our wall racks, hold knives on one side and look very contemporary and stylish with its counterbalance design. Our knife stand is for the cook or chef who has a good selection of kitchen cooking knives. Knives can attach to both faces making it an excellent kitchen accessory if you have lots of chef knives to house.
Personalise your wooden knife racks
All of our knife holders come with or without personalised engraving to add that personal feel to your kitchen or as a thoughtful gift, perfect for weddings, 5th wedding anniversaries. We can carve names and dates, quotes or witty wording of your choice. Also, choose from various different sizes and a range of timbers. Make Me Something Special Magnetic Wooden Knife Holders are simply stunning.