Bespoke Wooden Gifts: The Collection
We receive all kinds of requests and questions about how flexible we are when it comes to making our bespoke wooden gifts. The truth is… we love a challenge and we're always up for trying something new. So, when a customer comes to us with something we haven't done before, we can't wait to get started. Today, we're showing you some of the gifts that you haven't necessarily seen before, as they were made behind the scenes for those of you that requested something extra special…
Constructed form solid American Black Walnut, this wooden table planner was made for the The Watches of Switzerland and features 17 accurately cut slots on either side of the board, with a very beautiful carved crest in the centre.
There are 17 slots on either side of the block planner which were to hold business card-like seating cards, telling the position of each person where to seat at the table. In the centre of the table planner is a 3D carved crest, beautifully engraved and identical to the companies logo.
Each end of the table planner featured further company logos.
Business logo and crest engravings on our bespoke engraved wooden gifts are requested frequently, and it is something we very much like to do. Take a look at some of the examples below to see the kind of details and intricate carvings we have been asked to replicate.
A nice little retirement gift project. A simple yet elegant gift for a Bingo player. Constructed from 20mm thick Quarter Sawn solid English Oak, this little clip board only wanted to be 25cm long by 15cm wide. Which is fine when it came to attaching the clip part but to engrave was slightly more tricky. We had to get the customers message on the bottom part of the board, thus needing very small characters.
This required a specially made cutter, with a sharper tip to give the characters enough detail. It probably doesn't look like it, but the letters in the second and third row are only 4mm tall.
Even the smallest jobs receive our full attention.
Note the pail yellow blotches and streaks on the front face of the timber. These are called Medullary Rays – A tell-tail sign of high quality Quarter Sawn Oak.
This engraved wooden display box was designed to hold six books with easy removal. A neat and stylish way to display books and very clear with our engraved lettering to help yourself.
Handmade to solid oak by professional craftsmen, this stunning oak display box features some wonderful chamfering and details carving. These display boxes would work perfectly to house a small quantity of books right up to a large collection in a library. I think it is just beautiful.
This personalised chopping board wall bracket was ordered by a customer who purchased a bespoke large heart chopping board with engraved family names around the edge. Funnily enough this board has been featured on our Recent Commissions page – sixth from the bottom – and was made around 12 months ago.
Our customer wanted to display her chopping board by attaching it to the wall of her kitchen and called us to see if we could come up with any ideas. We created a raised bracket for the heart chopping board to slide behind and is held in place by two wedges on either side which fit the hearts profile edge perfectly. As we were the ones who made the heart originally, we knew exactly what shape the wedges needed to be. Our customer very kindly sent us an image of the personalised wall bracket in situe. I have to say – it looks fantastic!
This singer sewing machine table top does look absolutely stunning. I love these beautiful old singer sewing machines. This is one of those bespoke orders that is a delight to make.
These high quality notice boards or mood boards come in two sizes as standard but if you have a specific size or a particular place that need filling, we can make these to suit your requirements. All cork boards come either blank or with personalised engraving. We can carve family names or your own special message on either top or bottom of the oak frame or both.
These handcrafted oak cork boards also make a great gifts for the artists in the family. Beautifully finished with a one piece cork sheet and mounted with a solid oak frame. With everything we do, you can have it left blank or add personalised engraving to the top and bottom of the cork board frame. If you have young children, this is the ideal way to display their art work. A place to pin up their little masterpieces. I love this cork board. Lets be honest – all children are artists! If you have a home office, which a lot of us do, these high quality cork notice boards are perfect for organising all those loose bits of paper. Cork boards work very well as Mood Boards, perfect to spread out images and magazine cuttings for projects you may be working on.
This was one of those ideas we made for our kitchen, to show off our children's art but we also found we pinned a few impotent business cards and forms that need attention. It worked so well that I was sent to make another one for the office. A good quality Cork boards is a nice thing to use, especially the amount of effort that goes not ours – honestly you will not find anything like it on the market! people can try and copy these but we have a very unique way of making our cork boards that requires a lot of 'know-how'
Basically, you can't just buy a sheet of cork and put it into a frame, or glue it to a sheet of MDF – well you can, but you try and put a small plastic pin in it comfortably. We buy our cork in large sheets which we then cut down to size. We then stick this to a special foam board which is what makes our cork notice boards so very special! As we have said from the start – we strive to produce the finest possible products we can!
Love is all you need! One of the favourites from our bespoke wooden gifts collection. As I said at the top of this blog – we make products which we want to use and display in our home. This was the first engraved oak frame we made and it still hangs in our kitchen today and shows our little baby's feet (aged 6 months) all sandy from her first visit to a beech in cornwall.
Personalised oak photo frames are perfect for wedding gifts, birthday gifts, 5th anniversary gifts and special moments captured on family holidays. Ludwig Mies van der Rohe said "God is in the detail," and that is a saying we live and work by at Make Me Something Special and our high quality handmade wooden photo frames are made to emphasise what is framed within.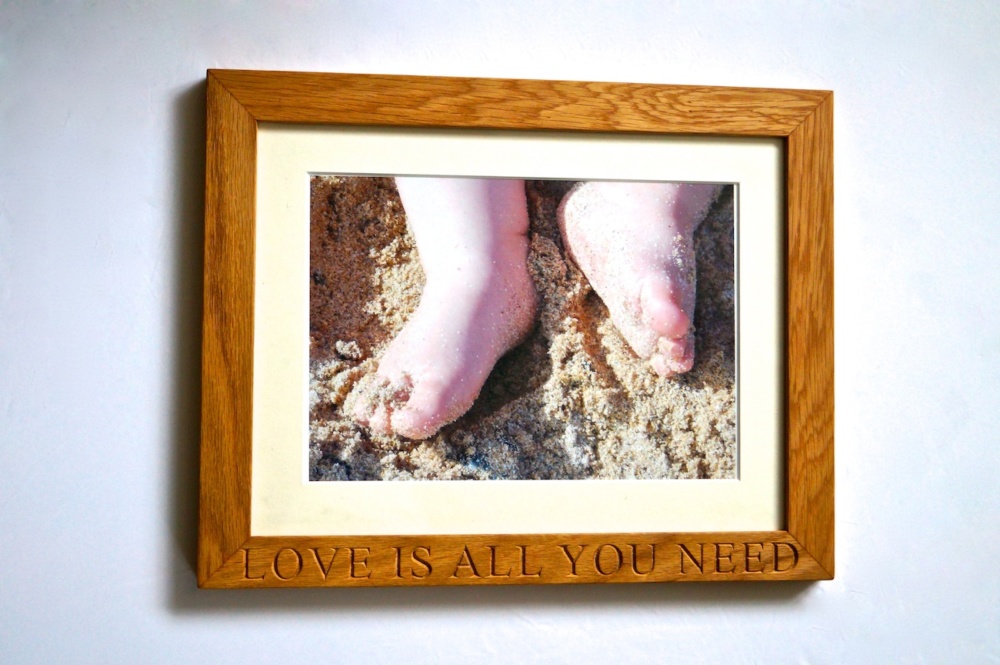 The finish of our personalised oak photo frames is flawless and our engraving is second to none. As you can see it is so clear and precise as all fine engraving should be. As with our Cork Boards, we offer engraving on both top and bottom of the oak frame which works so well when you need to carve names as well as dates or you may just want to have something simple yet says it all.
Our picture frames are available in many classic photo image sizes, however, if you need something special made, we also taylor make photo frames to custom sizes. Choose from portrait or landscape as well as wall or standing formats. Are oak frames come with all necessary fittings so they can be put up straight away after they arrive.
Our beautiful engraved wooden photo frames are, without doubt, ideal personalised gifts for friends and loved ones and are guaranteed to to make stunning statement in your home.
Barrow Hills School crest carved into a solid oak coffee table:
The Portman Burtley Coat of arms engraved onto one of our wooden serving boards:
Rodeo Steaks logo carved onto one of our bespoke salt & pepper bowls:
Purple Rhino wooden display board:
Wig & Pen serving board:
Yeo Valley corporate gifts for their long standing employees, Personalised wooden chopping boards.
Emma Bridgewater's wooden gift range. Engraving her unique font:
If you like the look of one of these bespoke wooden gifts and would like to order your own, or if you have any questions regarding our gifts, get in touch with us today for more information and enquiries by sending us a message via our contact form or giving us a call on 01252 703 196.
Personalised Wooden Toy Boxes
If you like the look of some of this toy box and would like to buy something special for a child or grandchild, take a look at these personalised wooden toy boxes, made by hand in our own workshop. You can view our full range of personalised children's toy boxes here.