Handmade Dining Tables: Bespoke & Beautiful
A unique home needs a unique dining table. The same goes for businesses such as restaurants, cafes and bars. That's why at Make Me Something Special, we create handmade dining tables that are completely custom made to meet your own preferences and requirements.
Whatever your style. Whatever your taste. We're able to create you a stunning bespoke dining table that is nothing less than absolutely perfect.
Customise Your Bespoke Dining Tables – Size and Style
These handmade dining tables are available in almost any size. They can measure to fit 6 seats, 8 seats, 10 seats, 12 seats – even up to 14 seats. There's absolutely no issue achieving this for you. We can go as large as you need.
It's even possible for us to make the dining table extra wide, allowing you to seat two people at the ends of your table. This comes in handy at big gatherings such as birthdays, Christmas and big family get-togethers.
These bespoke dining tables can be crafted from either Amish American White Oak or American Black Walnut. We only use what is classed as 'Superior Grade' or as we like to call 'Furniture Grade', to craft these handmade dining tables. These are the finest and most desirable hardwoods on the planet. Working with quality timber, you are guaranteed a dining table that is a pleasure to admire and will look simply stunning in your home.
Personalise Your Bespoke Handmade Dining Table…
Your Table's Edge: You have a choice of styles when it comes to the edge design of your dining table. The first option is a regular square edge on all four sides. We always include a small chamfer on the top edge, which gives your table a well-finished look.
We also offer what is known as the 'live edge' or 'natural edge' along the full length sides of your tabletop. This appearance has become extremely popular in tabletop construction and also worktops and chopping boards, due to its' raw, organic feel. This style of edge will follow the natural curves and shape of the tree trunk that the timber was sawn from. The edges are then sanded down until they're perfectly smooth to touch.
Table Thickness: Again, when it comes to the thickness of your bespoke dining table, you have options. Your tabletop can be made to either 35mm, 45mm, 60mm or even a massive 70mm thick.
Finish: Your dining table can be left untreated if you'd prefer to treat or stain it yourself. However, we offer the option to finish the tabletops with Superior Grade Danish Oil.
This high quality oil will bring out the natural colours of the timer and preserve the wood, meaning it can be used the minute it arrives at your door. Alternatively, we can go a step further and finish your tabletop in our extremely hardwearing Diamond Coating treatment. This results in a finish that is about as tough as it gets, giving you the peace of mind that your new tabletop won't be affected by any accidental spills or stains.
Quality like you've never seen before
It's not just your personal specifications that make these custom dining tables unique. These tables are of superior quality. Crafted from some of the finest timber in the world, they're unlike any other wooden dining tables you'll find on the market.
Your custom made dining table will be crafted from some of the world's finest furniture-grade American Hardwoods. These unique timbers are found in the Northern Appalachia Region of New England, and are sourced from sustainably-managed Amish saw mills.
By buying the entire tree to utilise, instead of just hand-picked timber, we have the flexibility of selecting out the widest and most flawless staves. This results in the overall finish of your dining table being all the more breath-taking. Plus, the timber is kiln-dried, making it perfectly seasoned for indoor conditions.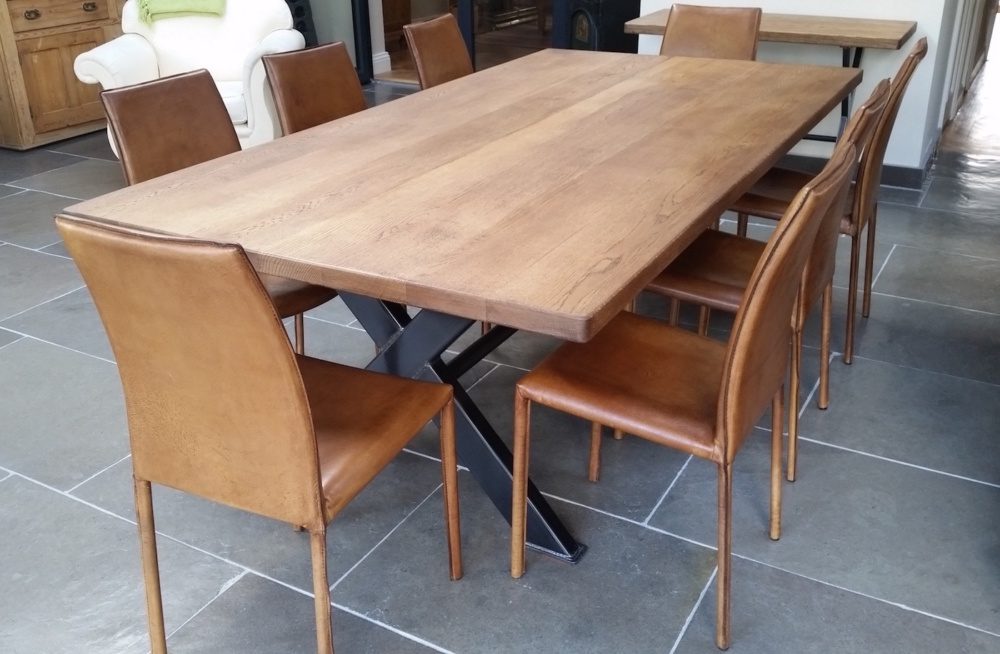 Tapered Frame Leg Base:
In order to firmly hold a large piece of quality timber, you need a very strong support system. That's why these handmade dining tables come with a welded steel leg base. The tapered legs are a simple, yet stunning design. Plus, being 10cm wide and 5cm thick, they provide strong and reliable support for the heavy wood tabletop.
The style of the table legs is somewhat neutral, so the dining table won't look out of place no matter its surroundings. Be it in the kitchen, dining room or conservatory. The tapered frame table base looks fantastic in a dining room, but will also work perfectly as a breakfast table in your kitchen.
The wooden table top sits firmly suspended by the two solid legs on either side. The frame also features connecting rails that run across the underside of the tabletop. This ensures absolute maximum strength, keeping everything very solid and sturdy for decades to come.
The legs can be left unfinished, in their natural finished steel state. This adds a modern industrial feel for the home, restaurant or other small business. Alternatively, the steel legs can be finished in either a painted or Powered Coated hardwearing finish, softening the appearance for a traditional or farm house home settle.
Custom dining tables for businesses
As well as creating handmade dining tables for homeowners, we also regularly create custom dining tables for restaurants, cafes and other small businesses.
So, if you own a business that has its own personal character and style, talk to us today about how we can hand-craft a custom wooden dining table that compliments your brand.