Personalised Wooden Bookends
These personalised wooden bookends are very popular amongst the wooden gift range at MakeMeSomethingSpecial.
As a gift, they work very well for 5th wedding anniversaries, wedding gifts, birthday presents or if you just want something stylish to keep your books together. These solid oak, hand-crafted bookends are simply beautiful.
You can have them as simple blocks of oak with no inscription at all, but if you like the personalised route you have lots of options to choose from.
Our Standard engraved bookends – A/Z
You can make these wooden blocks as personal as you like.
One big initial on the front looks good. The letters are about 75mm tall and deeply carved to really stand out. There is always room for an extra bit of text too. A date, ideal for Christenings and wedding dates or a birthday – stunning.
We give you 20 characters to personalise with, and we are very flexible with how you use them. Above you see a single bookend with two initials and a date, but if you want to change things around or completely change the look – it is up to you.
Here we have a wooden bookend with three initials and Christening date.
You don't have to choose initials alone. Names & special messages look stunning on the front you can even go as far as a full length poem or favourite quote.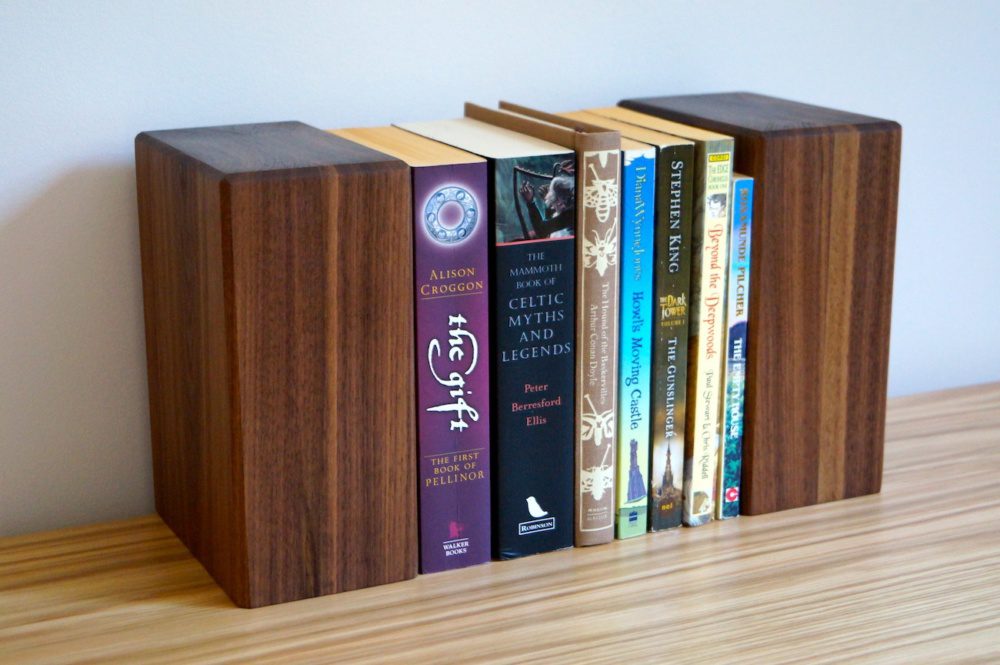 This is ideal for a newly wed couple. People often choose names and dates, which can be written over one bookend or spread over a pair of wooden bookends. They are sold individually, so you only have to buy one if one is all that is required. As a pair, however, you have much more flexibility of what inscription goes where and they look fabulous.
These personalised bookends weigh around 2kg which is man-enough to hold a large selection of hardback or paperback books. As a pair or stood alone, you can keep your cookery books or personal book collection together in one place.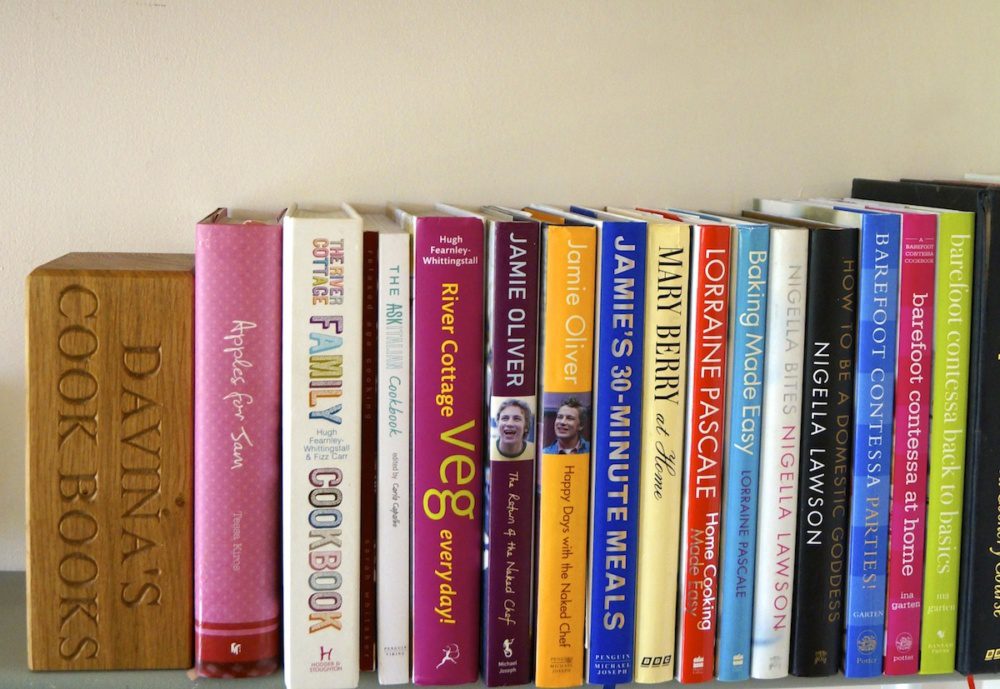 A new arrival to our wooden gift range is our very striking Walnut bookends.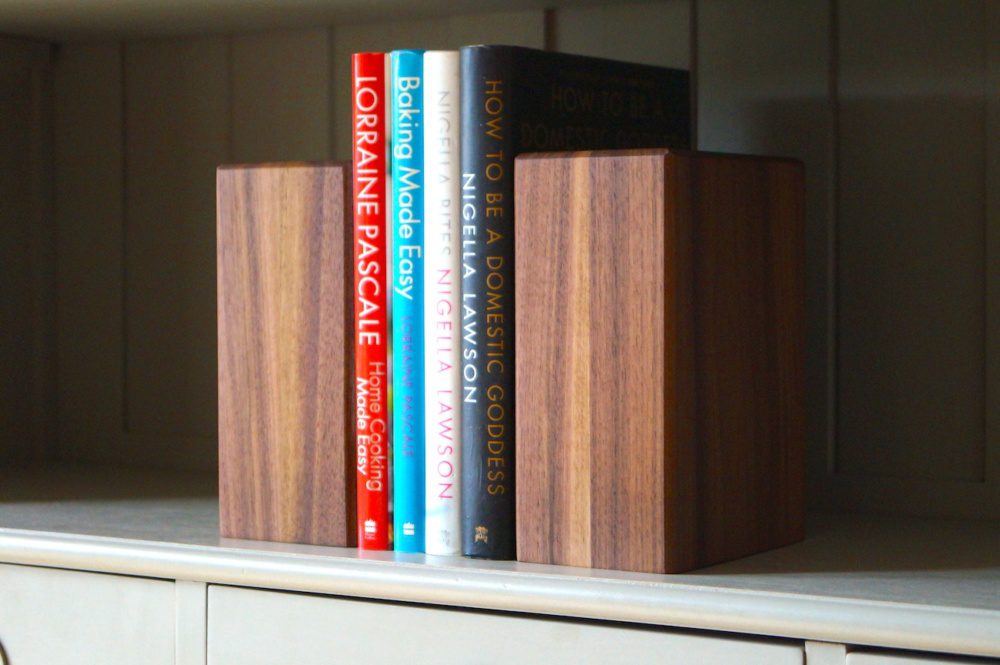 These beautiful wooden gifts are made from our highly prized Amish American Black Walnut, which is truly breathtaking. American Black Walnut is considered the most treasured of all the hardwoods in the world and we know this better than anyone from our years of experience in personalised chopping board construction.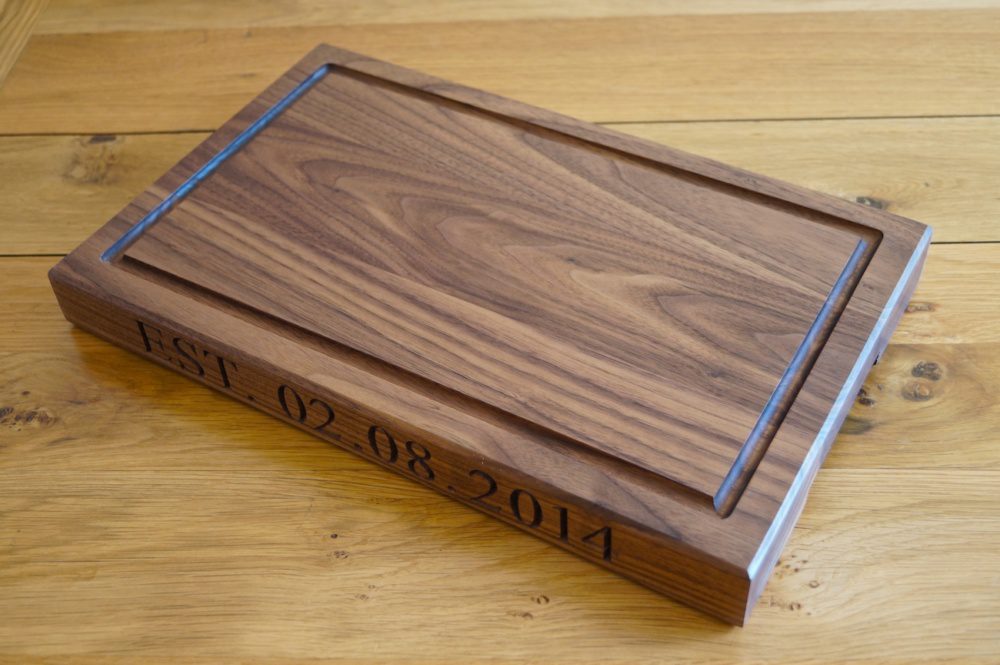 We launched these this summer alone with walnut personalised tea light holders, which are stunning, but there is something very striking about our walnut bookends. Maybe it is because they are so thick that the grain structure is more apparent, but they do look so very pretty on display.
Poems and  favourite quotations make a wonderful, inspiring addition to your home. Like a favourite picture you will find it uplifting to glance and stare for a moment and remind yourself of a special moment in your life.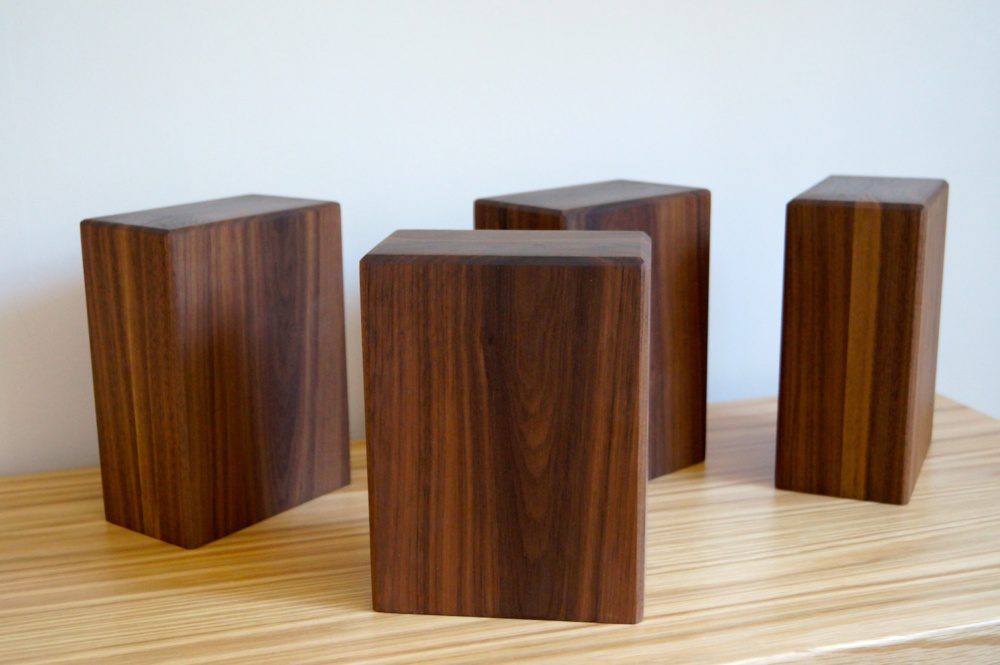 If you love books and enjoy a good read, what could be nicer than your favourite line or passage carved in oak and on display in your home.
If you choose, you can even have the front and back faces inscribed with a poem or quote. We can engrave lettering as little as 2mm tall and still be clear to read.
We have carved some very intricate inscriptions and looks like it was cut by laser but you would be mistaken. All of our words and lettering is carved and always will be as it lasts.
Bespoke Bookends is something we are often asked to do. This particular bookend featured initials and date on the front and a long inscription on the side.
Makes sense, the text is visible on both sides as the other side is keep books in line.
If you like our personalised wooden bookends and you have an idea of what you would like to have written and where, you only have to ask. Here at Make Me Something Special we like nothing more than making special one-offs for our customers.
We have made many bespoke personalised wooden bookends, one of our recent commission was a pair of bookends with poem inscription on all four faces of each bookend.
As engraved wooden bookends go – these are just stunning.
If you would like to order or discuss ordering one or a pair of our personalised wooden bookends, then do please contact us – we will be happy to answer any questions you have.
Give us a call on 01252 703 196 or contact us via our contact form.