7 Inspirational Gift Ideas You're Going to Love!
Need inspiration? It can be difficult to find the perfect gift. Before Make Me Something Special was born, I knew exactly what it was like… especially for a 5th wedding anniversary. Wood isn't the first thing you might think of when you want something luxurious, but you would be surprised! A gift that is handmade in UK by skilled hands can tern heads, especially when made form beautiful timber and finished to a extraordinary high standard. After all, if it for that someone special in your life, it needs to be good!
So where can I buy luxurious quality wooden gifts made from wood that's really special? Glad you asked. Welcome to Make Me Something Special. Here you will find nothing but unique and beautiful personalised wooden gift ideas for all occasions; not just 5th wedding anniversaries. Everything is handmade, from scratch, to order in our Surrey Hills workshop using the finest materials we can get our hands on – It is all about the quality.
We have the most attractive personalised wooden tea light candle holders and handmade engraved wooden chopping boards to be personalised with your choice of words or lettering. Wooden magnetic knife racks for the kitchen to display your favourite Japanese knives. Oak salt and pepper pinch bowls, for seasoning food whist cooking or at the table. Personalised wooden wall plaques with any amount of engraving you need, for a simple few words like 'LIVE LOVE LAUGH' or your favourite song lyrics or poem.
We love everything we make and the quality of the finish is clear to see.
1. Personalised wooden plaques:
These personalised wooden wall plaques are made from the highest quality oak and can be personalised with engravings of your choice to make them 100% unique.
Since we began making these plaques a few years ago, we've taken on a huge amount of special commissions from all around the world. From schools, businesses, borough councils, the Armed Forces, The National Trust, The Beatrix Potter foundation, the J.R.R Tolkien Trust, The Telegraph, Famous British food events and many private customers.
View wooden wall plaques in shop
2. Personalised wooden Tea Light Holders:
Don't believe me – then take a look below at our stunning personalised wooden wireless mobile phone chargers. No more hunting around for a cable to charge your smartphone. Just set it down on the top of one of our beautiful handcrafted oak wireless chargers and your phone will begin charging.
View tea light holders in shop
3. Wooden Wireless Phone Chargers:
We all have a smartphone nowadays. But, we definitely don't all have one of these. If you like the idea of charging your mobile device wirelessly, you are going to love our wooden wireless chargers. No more cables; just sit your phone on top of the pad and it will begin charging.
Engrave your charging pad with a name or phrase to make it completely unique.
View wireless phone chargers in shop
4. Personalised Watch Stand: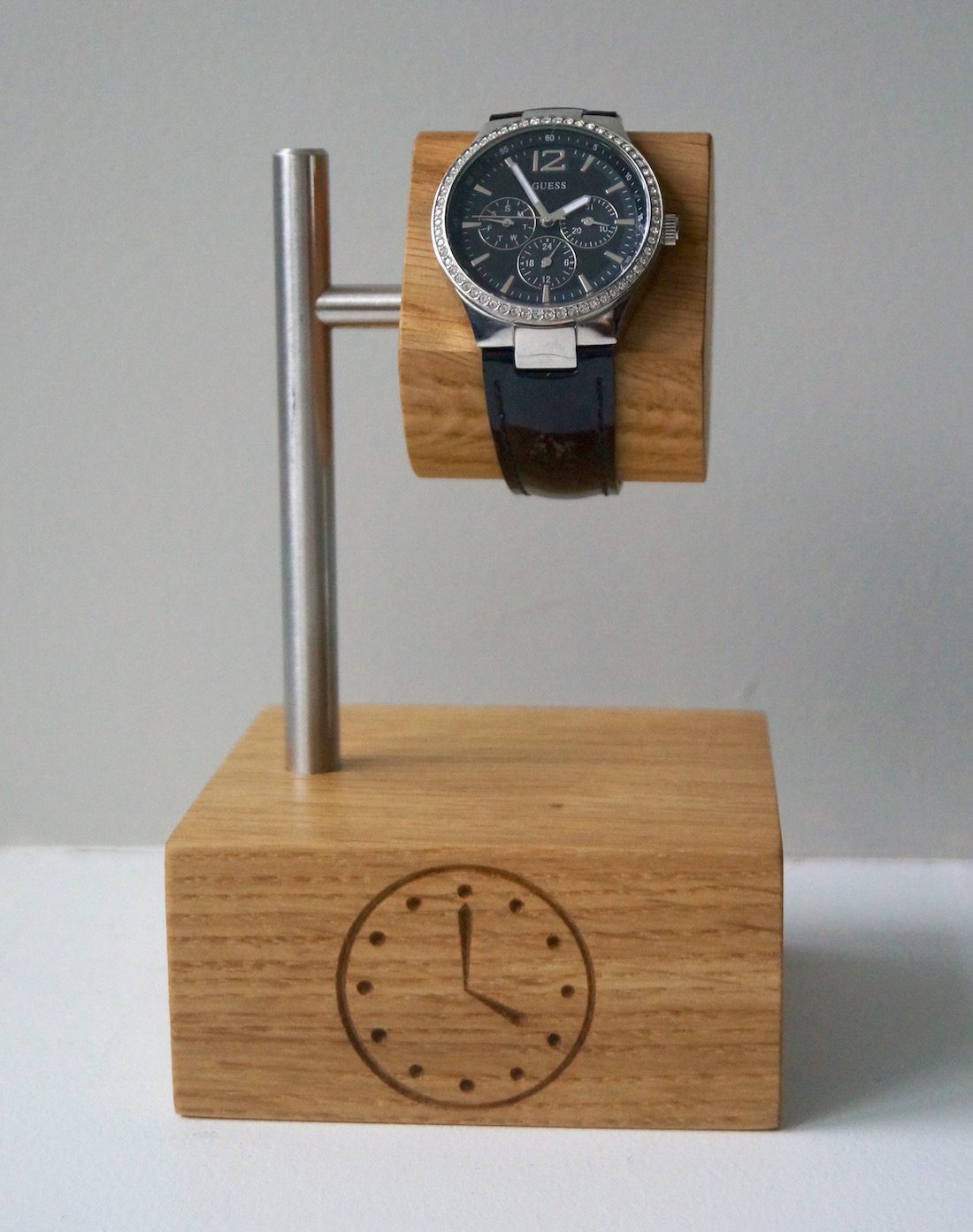 How about a very pretty personalised wooden watch stand? A unique gift for the one who cherishes his or her watch. Made from a blend of solid wood and stainless steel for keeping your watch where you know it will be.
5. Personalised wooden boxes of all shapes and sizes:
What about a stunning handmade engraved wooden keepsake boxes, ideal for filling with all of those precious things you need keeping safe. These are just a few of our personalised wooden gifts…
View wooden keepsake boxes in shop
6. Personalised wooden egg trays
These wooden egg trays are available in a number of sizes and can be made for as many eggs as you like. Oh and, of course, like all of the wooden gifts here at MakeMeSomethingSpecial, the trays can be personalised with an engraving of your choice!
7. Wooden cookery bookstands:
All these exquisite personalised wooden gifts don't just work for 5th wedding anniversaries. If you are needing unique wedding gift or birthday gift any of these stunning engrave oak gifts are sure to please. Take a look at our stunning personalised inspirational gifts and if you have any question about any of our engraved wooden gifts range, then please get in touch.
We would love to hear what you think of our personalised wooden gift range.